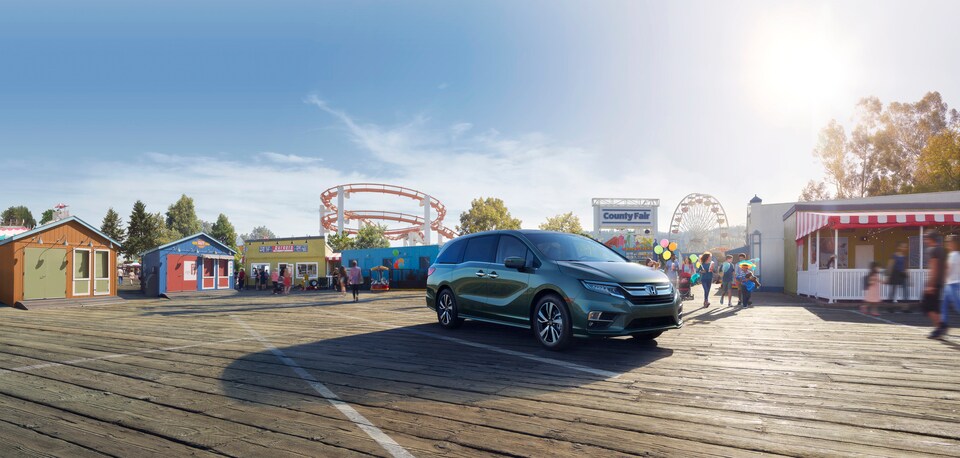 Family life gets easier with the help of the 2019 Honda Odyssey minivan
At Honda of Covington, we love helping families get behind the wheel of a vehicle that makes traveling easier, and one of the best models for families is the 2019 Honda Odyssey! This minivan offers up flexible seating, minivan-specific amenities, safety features, and more.
Savvy Seats
Minivan aesthetics have improved over the years, and the Odyssey is easy on the eyes. That said, we won't pretend that people jump into minivans due to their exterior looks. It's the versatile interior that makes them extra appealing, and the Honda Odyssey's is quite functional.
Take for example the Magic Slide 2nd-row Seat™ that is standard on all trims, minus the base. If you take out the middle seat in the second row, you can slide the other two seats close together. This configuration also makes it easier for kids to enter the third row.
Alternatively, you can slide the seats further apart if your kids need their space (and you need to maintain your sanity!) You can also pull the seats closer to the front row, which is great for parents who want to easily check on a baby seat once they're parked.
A Capable Engine
The Odyssey seats seven or eight passengers, and we know you want to have a powerful engine that can support a full car, whether you're driving around Mandeville, Saint Tammany Parish, or passing on the highway. All Odyssey trims come with a strong 3.5L V6 engine with 280 horsepower. The first four trims have a 9-speed transmission and can tow up to 3,000 lbs. The top two have a 10-speed transmission and can tow up to 3,500 pounds.
Trim Selection
Now that we've covered some key points, let's look at the various trims you can choose from. Whether you're on a budget or want all the features as you make your way around Slidell, you're sure to find an Odyssey that meets your needs.